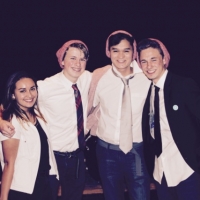 We Won The Battle of the Bands!
by McKenzie | June 1, 2016
Our Indie Folk band called
The Truman Doctrine won the school's Battle of the Bands!
Catch us performing @ Campus Day on Friday at Liberty! We have some great new music to share with you that will feature our newest members Haley rocking guitar, and Ethan tearing up the drums! Patriots, You won't want to miss it!
#‎
Round2
#‎
TrumanDoctrine