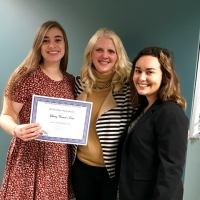 Winning at WMEA Eastshore Solo and Ensemble
by Brenda Fysh | January 21, 2017
McKenzie and her vocal duet partner Hannah won in their category at the WMEA Eastshore Region's Solo & Ensemble, which means they qualify for State! McKenzie also received a 1+ rating on her piano solos that same day.
Since Hannah and McKenzie are also in the school musical production, they are keeping their fingers crossed that they'll be able to go to State and make it back in time for opening night!
Special thanks to Mari their wonderful accompanist!